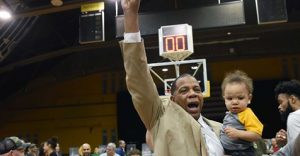 Albany Patroons Head Coach Derrick Rowland celebrates the team's championship win over Yakima SunKings on Friday, May 3, 2019 at the Washington Avenue Armory in Albany, NY. (Phoebe Sheehan/Times Union)
Albany – May 3, 2019
Midway through the third quarter, the third and deciding game of The Basketball League Championship series had all the makings of a game that was going to be decided deep into the fourth quarter.
At least it seemed that way until Joshua Cameron began heating up for the Albany Patroons.
A trio of consecutive 3-pointers, including one than was part of a four-point play, ignited a 20-3 run for the Patroons late in the third and visiting Yakima could not answer as Albany captured the TBL title 124-113 Friday night in front of 2,222 at Washington Avenue Armory.
"This has been a vision. I've been in this a long time," Albany coach Derrick Rowland said. "I just know what these guys can do. They put up with me, I'm demanding as a coach and I know what it takes. These guys stepped up big time tonight and I appreciate it so much."
With Albany trailing 66-65, Cameron converted a four-point play with 6:08 left in the third to start the run as his hot touch became contagious. Albany scored 41 in the quarter to take a commanding 96-78 lead into the fourth quarter.
"My favorite player is Stephen Curry and when I watch him, he is always going for 'Curry flurries' where he hits three or four in a row and he breaks the heart of the other team," Cameron said. "I try to take that motto since my strength is shooting. A couple of them dropped and I just wanted them to continue to drop."
Former Schenectady and Troy High product Shadell Millinghaus, the hero of Albany's Game 2 overtime win at Yakima on Tuesday, led the way for Albany with 37 points and 12 rebounds.
Millinghaus, who forced overtime with a basket at the buzzer Tuesday, was named the series Most Valuable Player.
"I laid it all out for this team. I love this team, just wanted to go out and give it my all," Millinghaus said. "I wanted to win a championship for my city. It is great to bring a championship back to the 518."
Yakima attempted to rally in the fourth quarter and cut the Albany lead to 115-109 with less than two minutes to play but the Patroons sealed the win on a thunderous dunk by Anthony Moe and four Cameron free throws before the final horn sounded and the court was flooded with a good portion of the crowd and confetti.
Cameron finished with 24 points and Jordan Robertson added 25 for the Patroons.
The SunKings, the league's regular-season champ, flew to Albany surrounded by turmoil after the two teams split the opening games of the series at Yakima.
Head coach and general manager Paul Woolpert was fired by Yakima owner Jaime Campos Wednesday night after Woolpert made a controversial social media post that Campos objected to after Campos informed his nine-year coach that his assistant coach and three players would not make the trip to Albany.
"They are champions, they have the heart of a champion," Rowland said. "I knew it wouldn't be over until the horn went off with those guys. I take my hat off to them, they made us work for it. They are a great team, just like us."
SunKings forward Renaldo Major, who scored 30 points in Yakima's opening-game win, took over the coaching duties and did not dress for the game.
Sean Martin, a local freelance writer, is a frequent contributor to the Times Union.